Stair Rods (UK) Ltd have been manufacturing carpet accessories for over twenty five years. During this time we have constantly innovated in all areas, designing, developing and introducing new products, fittings and finishes.
We design and manufacture all our stair rods in-house, meaning the entire process is handled by ourselves and we have full control over everything to do with our business. We concentrate entirely on our products - this attention and focus guarantees that they are the finest available anywhere in the world.
Royale Stair Rods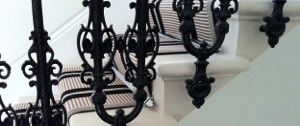 The Stairrods UK Royal range are triangular brass stair rods in the traditional style, designed specifically to give your staircase a finishing touch that will get noticed. Suitable for either runner stair carpets or fully fitted. Royale stair rods are made to measure and will give any stair case an imposing, classical look.
Eastern Promise Stair Rods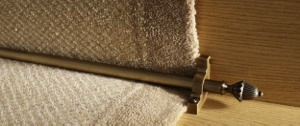 Eastern Promise are thick gauge hollow stair rods in a 5/8" (16mm) diameter. The rods have large, ornate finials and are perfect for grand staircases.
Premier Stair Rods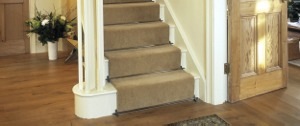 We are confident our solid core Premier range of stair rods are the finest available anywhere in the world. Our Premier range stair rods are the epitome of quality and style.  They are manufactured using traditional methods - the finial is lathed onto the rods, meaning every rod is one piece, made to measure and unique. The rods are then polished and lacquered to the highest standard.
Country Stair Rods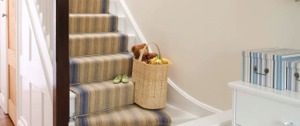 Our Country Range offers a wealth of options. Manufactured using traditional methods, they combine the quality of brass with versatility and style. Designed for a range of applications, Country range stair rods are suitable for both fully fitted and runner carpets, in locations ranging from from grand hotels to country cottages.
Vision Stair Rods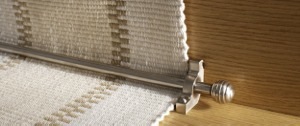 The Vision stair rods feature modern finial designs. The rods are thick gauge hollow 1/2" (12.5mm) diameter with a choice of Sphere, Piston, Arrow and Balladeer finials. They were designed to complement contemporary stair cases and carpet designs. They are a great choice for those looking for something different to the norm.
Crystal Stair Rods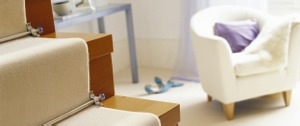 Our Crystal rods feature a finely cut crystal which catches the light and creates a dramatic and quite unique decorating effect. 
Tudor Stair Rods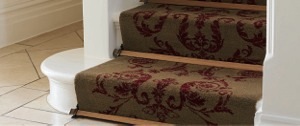 Our Tudor range stair rods capture the style of classical wooden stair rods.
Blacksmith Stair Rods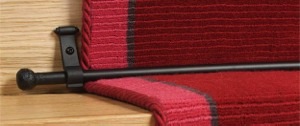 Our Blacksmith range of wrought iron stair rods have been designed by award winning Northumbrian Blacksmith Rodney Brittain. Using traditional hot metalwork techniques, he has created a simplicity of design that make then equally suited to everything from rustic period properties to modern town houses. The rods are made from ½" (12mm) solid steel, individually beaten into shape and then given a protective coating to prevent rust. Ideal for runners and fitted carpets.
Victorian Stair Clips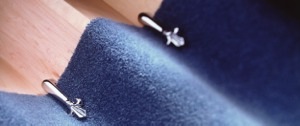 In Victorian times stair clips were a popular and fashionable accessory, however modern fitting methods sadly consigned them to history.
Homepride Stair Rods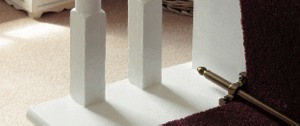 Homepride stair rods provide a quick and easy way to add style to your stairs. These rods are anodized hollow brass stair rods and are available with brass, bronze, black, chrome, and new satin nickel and pewter finishes.
If desired, the rod, brackets and acorn finishes can be mixed and matched. For example, a black rod with brass acorns can be specified. Homepride stair rods can be supplied with one acorn loose so they can be cut down. The acorn then pushes into place.
Jubilee Stair Rods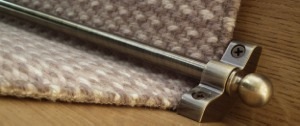 We have launched a new range to celebrate the Queen's Jubilee. To save fitting time, the finials are already attached to the brackets. Brackets can easily accommodate underlay and gripper, unlike other budget rods sold online.
Easyrods Stair Rods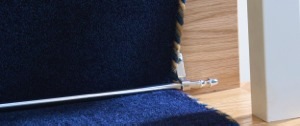 Easyrods are part of our "Easy" range of products - Easybind, Easystuds and now Easyrods are a quick and cost effective way of enhancing your stairs and hallways.
Stair Grip Stair Rods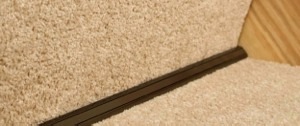 Stargrip stair rods offer a unique way to fix carpet to the stair. 
The revolutionary design of these stair rods enables them to double as a means of installation while also providing the elegance of brass stair rods on your stair case.