We're proud of our heritage, our people and our designs. Quality in design and craftsmanship is guaranteed with every Axminster Carpet – each one is made using our traditional methods and is individually inspected.
Today Axminster Carpets is still a family run business based in the heart of Axminster, the Devon town that gave the carpets their name. The history of carpet making in the town dates back to 1755 when Thomas Whitty made carpets using what became known as the Axminster method of weaving.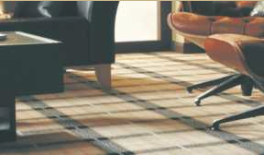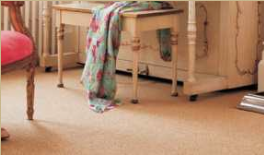 Textured Carpets
A textured carpet adds wonderful depth to any area of your home. Whether it's a plain texture, a striking stripe or subtle pattern, you'll find a carpet from our textured ranges to suit your style and colour scheme.Royal Borough Wilton
Royal Borough Wilton
A simply exquisite collection for the most discerning of interiors.
Simply Natural
Unique in every way, combining the softest wools for a striking, textured finish.
Patterned Carpets
Pattern is back - from a contemporary take on traditional designs or to create a truly heritage impression we have an extensive selection of patterns and designs for every taste and style.
Stripes
Linear stripes with contemporary new looks.
Tartan, Checks and Plaids
A modern styling for a traditional design.
Textured Effects
A range of gentle patterns to give the illusion of a textured carpet in a cut pile weave.
Subtle Cubic
Versatile neutral colours combined with subtle cubic motifs to add a note of detail to your floor.
Botanicals and Florals
Exceptionally pretty carpets, carefully designed, intrecately woven and very on trend.
Eastern and Persian 
Influenced by Eastern and Persian motifs, these designs will transport you through time and across continents. 
Traditional Patterns
A range of traditional carpet patterns, woven to an exceptionally high quality.
Hazy Days
Let your imagination run wild with this versatile collection of grey and soft dove carpets with a twist – try combining with accent colours and trims to create a modern, yet timeless interior.

Annalise Collection
Exclusively available in John Lewis stores these beautiful patterns bring a timeless sophistication and natural beauty to your interior.

Plains
Whether a heritage inspired traditional style, or a contemporary setting, if you're looking for a touch of luxurious comfort, choose from elegant greys and classic creams through to pillar box reds and bold blues.
Jacob Twist and Tweed
A contemporary grey colour palette in either a chunky tweed finish or a classic twist, made from Jacobs sheep wool.
Heathers
Advanced dyeing techniques produce these pracrtical yet beautiful flecked yarns to give a heathered effect.
Solid Plain
A spectrum of beautiful colours to bring a touch of refinement to any room. 
Woven Heather Plains
The highest quality plain heathered carpets.